It's time to cuttle up and read our latest newsletter!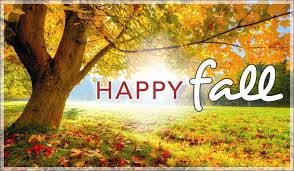 ---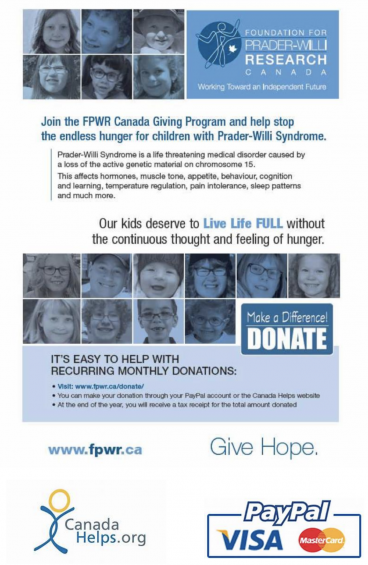 Get a tax receipt for the total yearly amount donated.
Go to www.fpwr.ca/donate
Encourage family and friends to become monthly donors
---


Own your own shop?
You can sell OSS Footprints that we can provide to you at $2.00 a foot.
OSS Footprints can be signed and put up on a board, under the cash
counter or in your windows. It brings awareness as we provide you with a
PWS info page to explain what PWS is and the campaign itself. And it
allows you to raise a little money all at the same time.
Contact michelle.cordeiro@fpwr.ca to get your OSS footprints.
---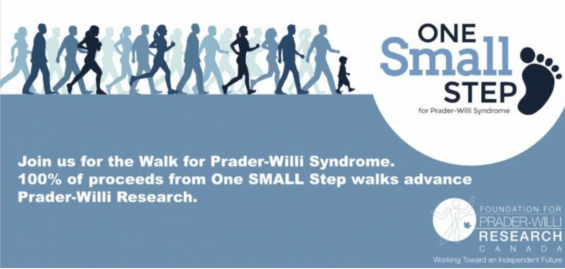 Our signature walk events are winding down!
Only 2 walks left
McMaster University, ON October 27
Richmond Hill, ON (in November
Please note you can still donate to any fundraising page until December 31st. Go to fundraise.fpwr.ca and type in the name of the event you want to donate to and donate.
Thank you to everyone who donated, walked, participated and volunteered to these walks. A special Thank You to our hosts who every year hold these events and do it to ensure all people with PWS have the treatments they need to Live Life FULL.
For completing your walks, thank you to:
Tyne McRae and Darcy Sheridan – Cornwall
The Jones Family – Brampton
Tammy Renwick – Grande Prairie
Penny Harper – Kingston
Kristin Simms- Happy Valley-Goose Bay, NL
Stacey Letovsky- Hampstead, QC
Stephanie Thomas and all Alberta families- Calgary, AB
Ottawa families- Ottawa, ON
Laura Birnie- Toronto, ON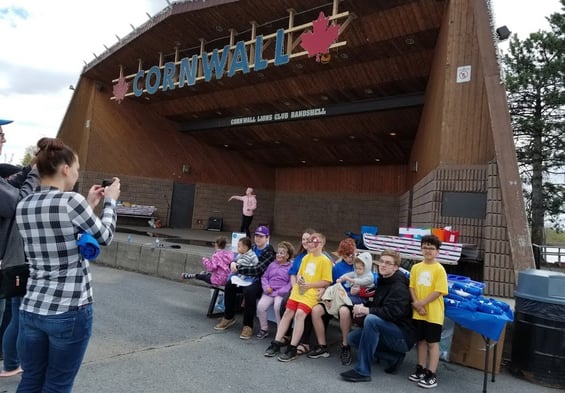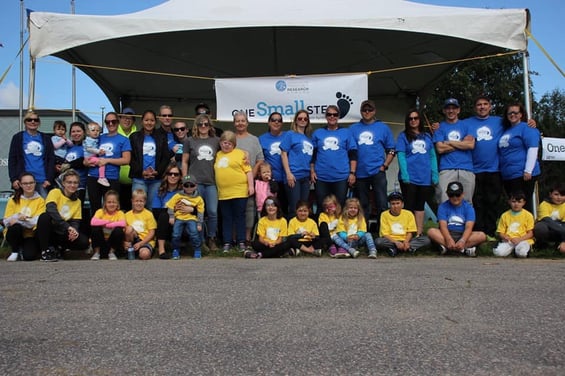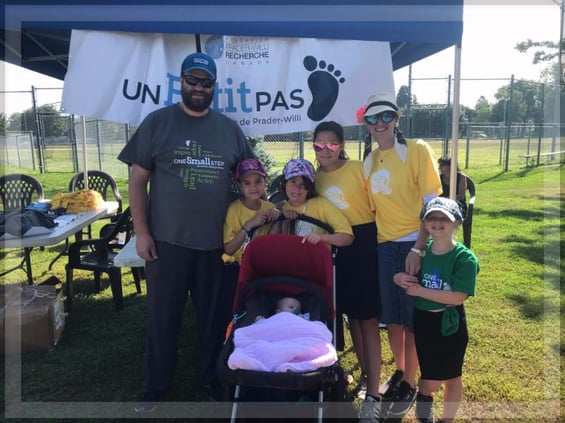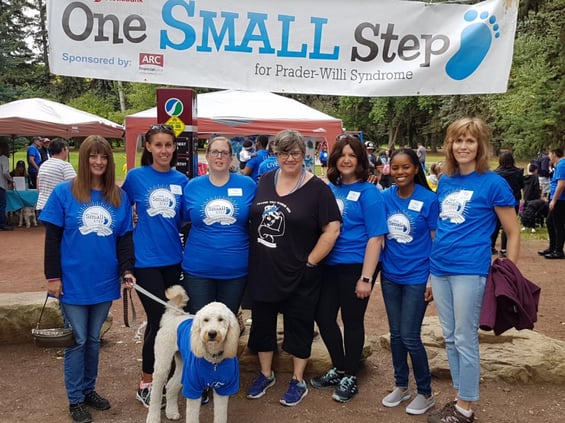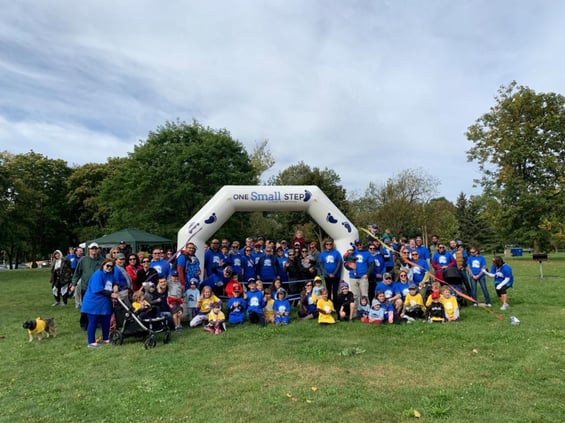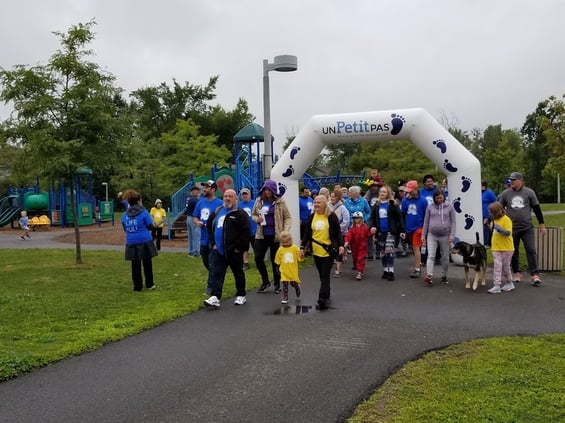 ---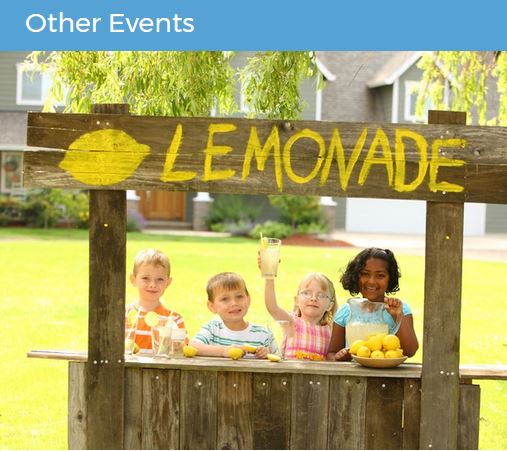 Have a great fundraising idea?
Want to do a marathon, garage sale, bake sale,
lemonade stand to raise funds? Create your own
DIY event. We can help with that, contact
michelle.cordeiro@fpwr.ca to help you get set-up.
---
Help us have a better idea of the common issues related to PWS!

Participate ONLINE to the PWS Global Registry.
---
Need more information on research?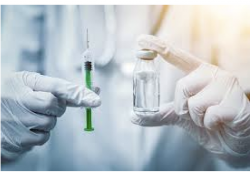 Participate in clinical trials currently available.
Go to https://www.fpwr.ca/research/ to see current projects and clinical
trials available.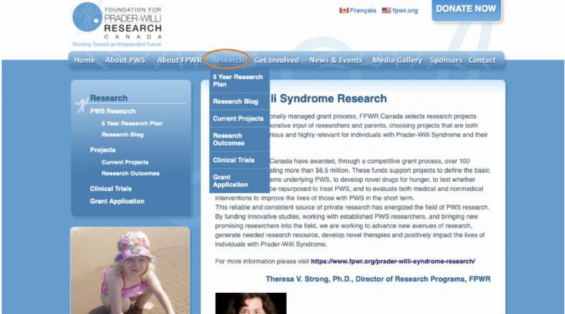 ---
Here are some ways you can contribute to research:
1) Studies: Get involved in a study. Some of the studies(e.g.Global Registry- https://www.fpwr.org/global-pws-registry), are all online or involve sending samples without a lot of travel or clinic visits. Usually participants are enrolled online, no visits are required and no medication is administered.
2) Clinical Trials: A few clinical trials are open to Canadians. These involve travel and clinic visits as well as treatments, so are more of a commitment. Participants are enrolled at a specific site through a study site coordinator. Clinic visits are usually required. Participants will be given the treatment or a placebo.
For information about the importance of participation in clinical trials, visit
https://research.fpwr.org/blog/pws-clinical-trials-2017-update-video
For up-to-date information on clinical trials and studies world-wide, visit
https://www.fpwr.org/category/clinical-trials
3) Become an advocate reviewer. You don't need specific expertise to do this. Researchers are required to write a lay summary and their proposals should be understandable.
4) Keep fundraising. Research is expensive, with salaries, reagents, cell culture, animal models contributing to budgets of over $100,000 per year for each funded project. Many projects submitted to FPWR are unfunded.
5) Stay informed. FPWR has a lot of informative videos and other material about advances in research and clinical trials. You will likely know more about recent advances than your doctors. Participating in the FPWR Family conference can be an empowering experience.
Please read our latest blast on all available clinical trials for Canadians: https://conta.cc/2oFiMmx
---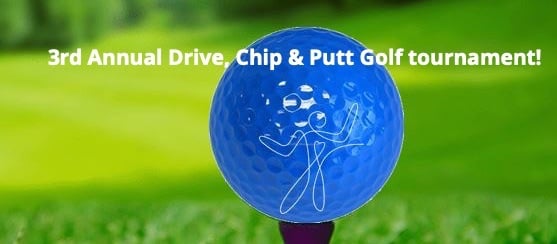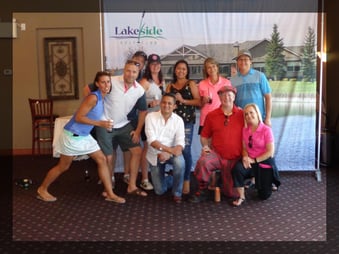 On September 7, 2019 we welcomed the sunshine and warmth at Lakeside Golf Club in Chestermere, Alberta for our 3rd Annual Drive, Chip & Putt for PWS! Charity golf tournament.
Not only did the 50 participants enjoy a great day of golf, they were also able to test their various skills on some hole contests. For example, on hole 9, they were able to put their skills to the test by chipping with hockey gloves and everyone had some laughs and a fun time!
Thank you to all of our sponsors, donors and participants for helping us to raise over $5000 for FPWR Canada!
Thank you to On Par Tournament Coordinator and Lakeside Gold Club for coordinating and hosting a great tournament so we could bring more awareness about Prader-Willi Syndrome to our guests!
We look forward to next year's tournament as we are already planning a big and fun-filled event in support of FPWR Canada! We hope to see you all next year!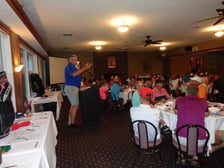 ---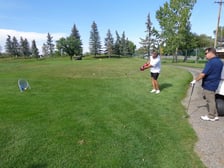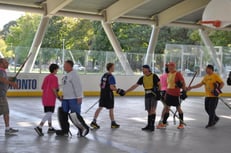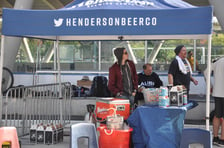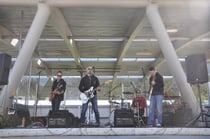 The weather Gods were on our side once again for our second shot on net! Hungry for Hockey 2019 was a smash success with a new venue (the Greenwood outdoor covered hockey pad in Leslieville, Toronto) and the same generous beer sponsor Henderson Brewing Company (next to the MOCCA in the Junction Triangle, Toronto) donated all the beer. Sanagan's Meat Locker (Toronto) donated the Octoberfest bratwurst sausage. Bacon Lettuce Tornado was back again to rock & roll, and attracted a group of neighbours to wander over (for all the right reasons) to buy some beer, hear some great tunes, and learn a bit about a rare syndrome.
Six teams, aged teen to silver-haired, battled it out to help raise funds for FPWR Canada. Along with the attendees and the generous online sponsors of players, the community came together and raised just shy of $26,000. A raffle prize for a pair of tix courtesy of Classic Albums Live at Roy Thomson Hall, to hear 'Damn the Torpedoes' by Tom Petty & the Heartbreakers was also part of the fun. We had Ryan Cohen (dad of Jazz) and his team of fundraising dynamos playing, as well as dad Ryan Kelly (dad of Clare) and his team of Guelph champs on hand. They won the tourney for the second time running!
---
11th Annual FPWR Canada Golf Tournament for Prader-Willi Research
On Sunday, September 15, Mark Bagatto, FPWR Canada Board Member, hosted the11th Annual FPWR Canada Golf Tournament for Prader-Willi Research at St. Andrew's Golf Course. It was a great success, the event raised $13,000 for PWS Research. It was a great day by all, as all the golfers enjoyed the day putting for PWS.
We appreciate the support of our board members, volunteers and all of the families and sponsors that supported the golf tournament.