Great things are happening at FPWR Canada!
Summer 2019
Our community is an amazing one.
Research won't happen without your involvement and your financial support!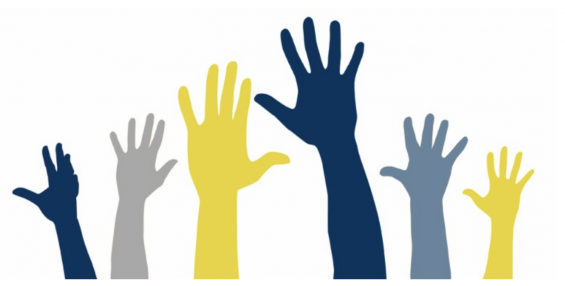 How you can participate and make us find treatments faster!
---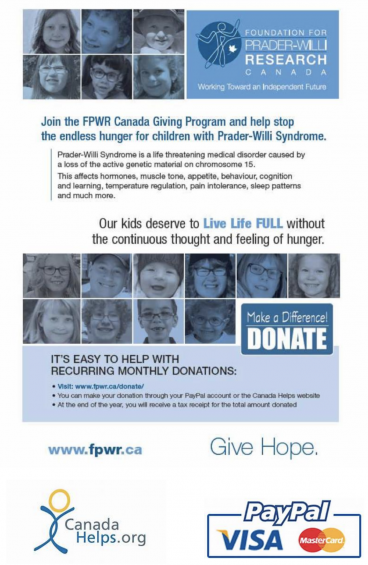 Get a tax receipt for the total yearly amount donated.
Go to www.fpwr.ca/donate
Did you know?
We have close to 300 families that are connected with us, if every
family would be willing to make a monthly donation of $10 per month
($0.33/day) we would raise $36,000 per year.
Encourage family and friends to become monthly donors
---


Own your own shop?
You can sell OSS Footprints that we can provide to you at $2.00 a foot.
OSS Footprints can be signed and put up on a board, under the cash
counter or in your windows. It brings awareness as we provide you with a
PWS info page to explain what PWS is and the campaign itself. And it
allows you to raise a little money all at the same time.
Contact michelle.cordeiro@fpwr.ca to get your OSS footprints.
---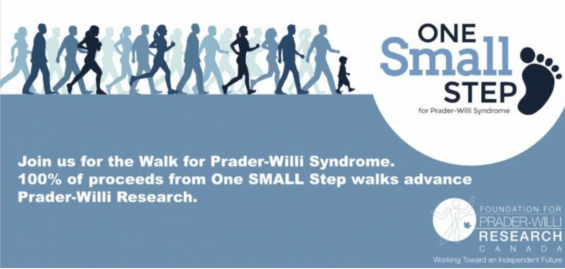 Participate to a walk near you. Go to fundraise.fpwr.ca to find one
near you.
Do a virtual walk by opening a fundraising page under Canada's
virtual walk.
Consider hosting a walk in your community, if you have lots of help
and volunteers and other PWS families who want to participate.
contact carole.elkhal@fpwr.ca to help you register.

Thank you for completing your walk:
Tyne Ersnt and Darcy Sheridan in Cornwall
Jack and Belinda Jones in Brampton
Tammy Renwick in Grande Prairie
Penny Harper in Kingston
Upcoming walks:
Hampstead-Montreal, QC August 4
Happy Valley-Goose Bay, NL August 24
Ottawa, ON September 7
Quebec City, QC September 14
Calgary, AB September 15
McMaster University, ON September 15
Toronto, ON September 29
Richmond Hill, ON TBD
---
Have a great fundraising idea?
Want to do a marathon, garage sale, bake sale,
lemonade stand to raise funds? Create your own
DIY event. We can help with that, contact
michelle.cordeiro@fpwr.ca to help you get set-up.
---
Help us have a better idea of the common issues related to PWS!

Participate ONLINE to the PWS Global Registry.
---
Need more information on research?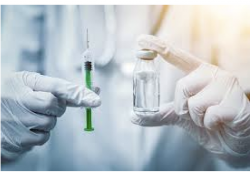 Participate in clinical trials currently available.
Go to https://www.fpwr.ca/research/ to see current projects and clinical
trials available.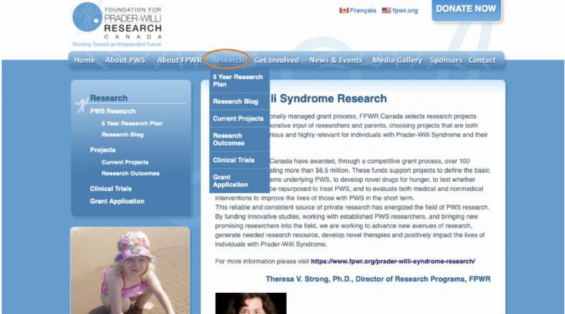 ---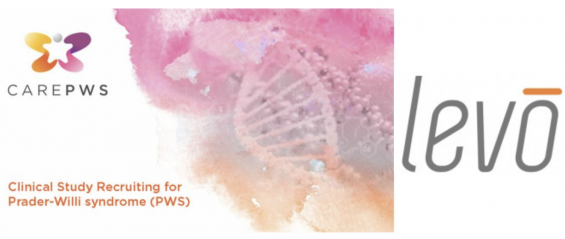 Help us find new treatments for Prader-Willi syndrome (PWS) today!
CARE-PWS is a clinical study evaluating an investigational medicine for the
treatment of Prader-Willi syndrome (PWS)
in 7-18 year olds and is enrolling now.
There are four locations in Canada: Vancouver, Edmonton, Toronto and Montreal
About CARE-PWS
If you have a loved one with Prader-Willi syndrome (PWS), he or she may
qualify to participate in the CARE-PWS clinical study.The goal of CAREPWS is to see if an investigational medicine is safe and effective at
reducing PWS symptoms. There is no baseline weight or body mass index
(BMI) requirement for people participating in this clinical study.
The investigational medicine will be administered through a nasal spray.
Caregivers will have to observe and document their loved one's
experiences during their participation in the clinical study. This clinical
study is enrolling participants who are:
7 to 18 years old
Diagnosed with PWS
Find our more. Click here to see if your loved one may qualify
There is no cost to participate in the study, and reimbursement for study-related travel expenses may be provided."
---
What's in it for you?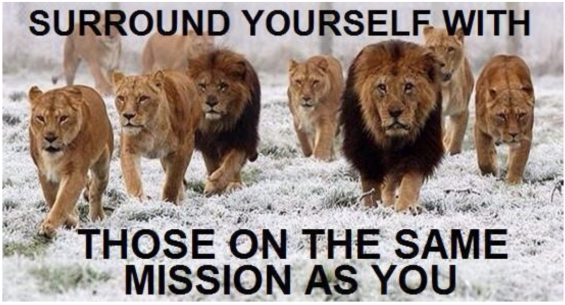 Feeling you are doing something to help your loved one with PWS
You're not alone in this fight, be part of a team.
When we find treatments and we advance research on PWS, know
that it is because of all the efforts we put in it as a community.
---
May 2019: PWS Awareness Month!
May is Prader-Willi Awareness Month. To raise awareness, FPWR Canada sent daily updates on PWS, held a campaign and raised $500, and on May 31 the CN Tower lit up orange.
Everyone across Canada showed their support, from local schools, a PWS evening out, and even all the way from Dominican Republic!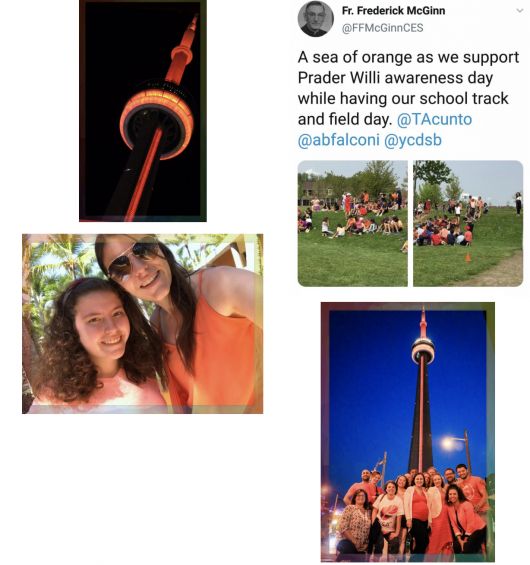 ---
10th Annual and Farewell Guelph Gala!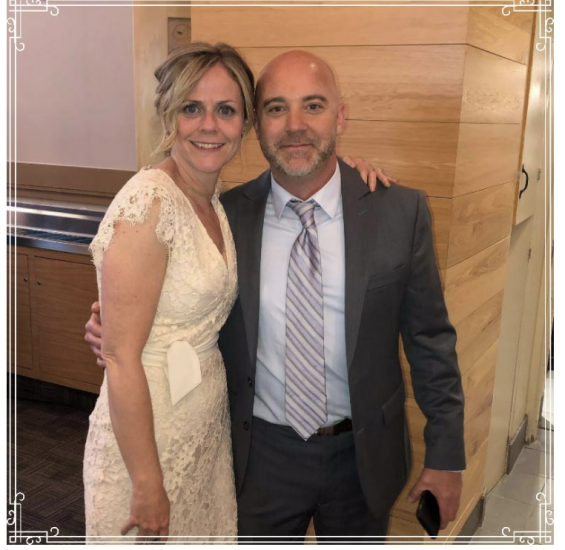 The Kelly family celebrated their farewell Guelph Gala. Huge thanks to the
Kelly family and their Guelph community who have raised almost $300,000
over the past 10 years for PWS research.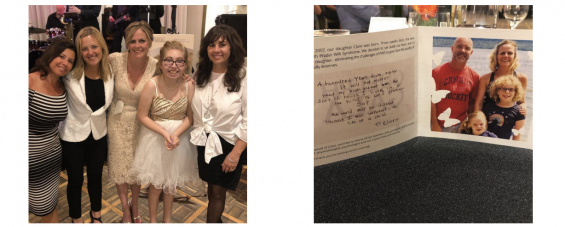 ---
FPWR Golf Tournament
For more information and to register please go to: https://www.fpwr.ca/news-events/events/fpwrc-golf-tournament/