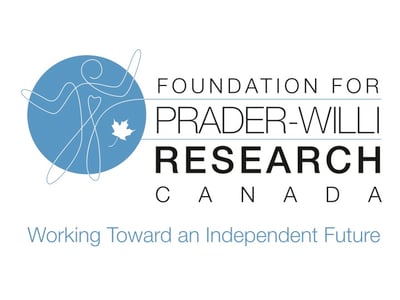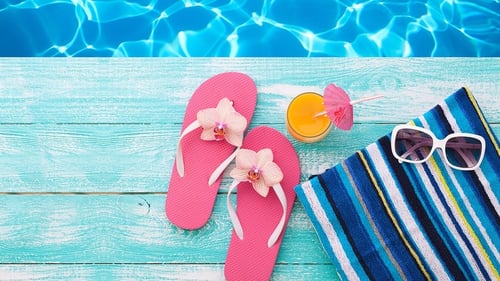 FPWR Canada is heating up for summer! In this issue:
Year-end Report 2019
Result of a study funded by FPWR Canada
OSS National Virtual Walk
Family Conference
May PWS Awareness
Fundraising during COVID-19
Care for PWS & Clinical Trials
Monthly Donations
Stay connected with FPWR Canada
---
Year-end Report 2019 Check it out!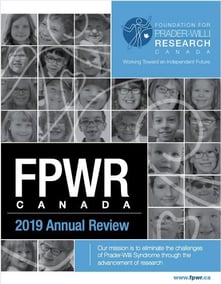 2019 was another outstanding year in the fight against PWS. FPWR Canada and its affiliates continued to make great progress in the mission to eliminate the challenges of Prader-Willi Syndrome through the advancement of research.
---
Result of study funded by FPWR Canada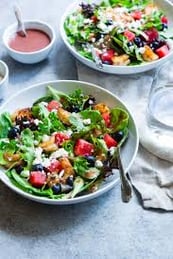 Dr. Ann Scheimann is an Associate Professor of Pediatrics at the Johns Hopkins University School of Medicine, in Baltimore, MD. In 2016, she was awarded funding from FPWR Canada for a project entitled "Impact of carbohydrate restricted diet upon growth and hyperphagia/food anxiety in children with Prader-Willi syndrome". This study was published last week in the journal Orphanet Journal of Rare Diseases. The title is "The modified Atkins diet in children with Prader-Willi syndrome", with authors Grace Felix, Eric Kossoff, Bobbie Barron, Caitlin Krekel, Elizabeth Getzoff Testa & Ann Scheimann. The publication is freely available online:
Weight management in people with PWS is challenging, and families usually try a variety of dietary strategies before finding one that works for them. This study asked whether a 4-month trial of a Modified Atkins Diet (low carbohydrate and high fat) might be beneficial in children (ages 6-12) with PWS. Children could have 10–15 g net carbohydrate per day, with protein and fat allowances tailored for each child. For example, the Modified Atkins Diet includes low carbohydrate fruits such as berries, low carbohydrate vegetables such as spinach and cauliflower, and dairy in small amounts, avoiding higher carbohydrate foods like potatoes, apples and bread. The researchers measured the children's weight, laboratory markers, tolerability of the diet and behavior at the beginning of the trial, after 4 months on the diet, and after four months off the diet.
Seven children started the study, but only four finished the study. Of those who finished, body weight stabilized on the diet, but weight gain occurred in the 4 months after the diet was stopped. Parents found that their children were less obsessed about their next meal, and that frequency of temper tantrums and moodiness was "much improved". Challenges included meal planning, acceptance from other caregivers and accommodations at school. Children following a very low carbohydrate diet should be monitored by a physician, as there can be negative health effects on this diet. Nonetheless, all four families went back to a low carbohydrate at the end of the "off diet" period. The authors conclude that "this small pilot study demonstrates justification for larger multi-center studies."
Families interested in the Modified Atkins Diet (low carbohydrate and high fat) for their children with PWS should seek advice from their family physician. They should also consult with a dietician to ensure that their child will continue to meet the recommended daily amounts of vitamins, and that they will be consuming the amounts of high quality fat and protein appropriate for their age and growth.
---
OSS National Virtual Walk 2020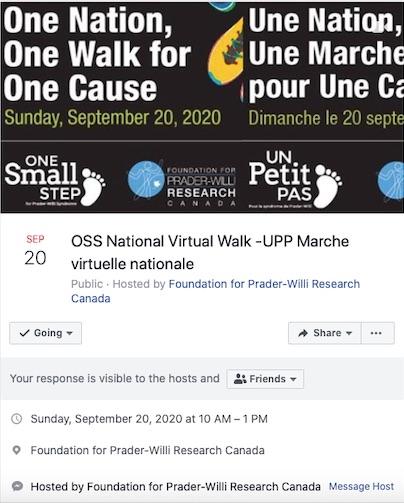 Click here to join the Facebook event group
Did you ever think in March we would still be in quarantine in early June? At FPWR Canada we had to make some vital changes to fundraising this year. We hope you will join us in the OSS National Virtual Walk on Sunday, September 20.
Stay connected and join the Facebook eventgroup – OSS National Virtual Walk for on-going information and conversations.Invite your friends and family to join too!
Post your questions, get great tips and updated information!
Click on the YouTube video below for step by step instructions to register and open a participant page.
If you need help contact carole.elkhal@fpwr.ca
---
Family Conference 2020

COVID-19 had an impact on our scheduled Family Conference to be held on May 23. This event has been cancelled. We want to support our families in the PWS community.
Please stay tuned for updated information on how you can participate in the FPWR US Conference, which will be held virtually. More detailed information, including confirmed date, to be available soon.
---
May PWS Awareness Month 2020

Thank you for your support, staying connected and bringing awareness to PWS all month long! During this critical time, FPWR Canada's research continues, and our commitment to eliminating the challenges of PWS through research and therapeutic development goes on. Donations to fund current and new studies are always welcomed and needed.
We raised $3,330.00 during the PWS Awareness Campaign
Still time to donate!
Click here to continue to support PWS Research

---
Fundraising during COVID-19

Regardless of COVID-19, our team remains committed to advancing research and finding treatments for the challenges of Prader-Willi Syndrome. Let's continue to support PWS Research "Covid Style". During this time, fundraising doesn't have to stop, it just looks a little different.
Do you have a fundraising idea? Contact michelle.cordeiro@fpwr.ca to get started!
---
Care for PWS and Clinical trials
Dear PWS community,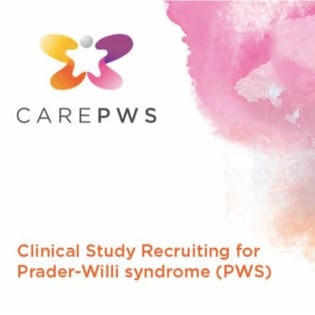 We're writing to let you know that we've made the difficult decision to close enrollment in the CARE-PWS study due to the COVID-19 pandemic. For the sake of clarity, all currently enrolled participants will continue in the study as planned.
To any families who were in screening or contemplating participation when enrollment was paused, we understand and share in the disappointment that this news may bring. We are grateful for you and all who showed an interest in this study. We look forward to sharing the results of the study with you later this year. In the meantime, I hope all of you and yours can stay safe and healthy.
Sara and Team Levo
---

Clinical Trials Pave the Way For PWS Treatments
PWS clinical trials are taking place around the world to help us
understand Prader-Willi Syndrome and investigate new treatments.Interested in participating in a clinical trial?
Your participation is key to moving potential therapies forward.
Click here to view current clinical trials
---
Monthly Donations
FPWR Canada appreciates your on-going support. Do you donate throughout the year?Make your donation a monthly donation.