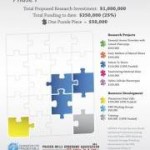 The Prader Willi Syndrome Research Plan is now available! This plan is the result of over 60 of the world's leading PWS researchers, defining what we need to do to eliminate the challenges of Prader-Willi Syndrome. Take a look and see what projects we are planning to fund. The plan covers some questions all parents have asked, like "What happens as children shift from failure to thrive to excessive hunger?". It also addresses a few novel concepts, like "Is it possible to re-active the maternally silent genes in the PWS region. If you are interested in how we're going to eliminate the challenges you should take a look.
Phase I of the plan calls for $1M of funding … we've already allocated or spent $250K on the plan. This year we are hosting One SMALL Step walkathons all over the world to help fund the research. If you would like to help take One SMALL Step sign-up at http://www.fpwr.ca/walk-run-signup/
We will be updating the plan and filling in the puzzle pieces as we proceed … One SMALL Step at a time!