Live Life FULL Pendant Necklace
Support a cause!
Raise Awareness!
Wear with Pride!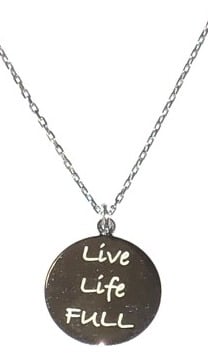 Limited Quantity!
All proceeds going towards PWS Research
$50.00 CDN each (includes taxes and mailing)
$60.00 CDN each for US residents (includes taxes and mailing)
Live Life FULL necklaces are hand crafted and designed by Sitara Jewels.
This elegant sterling silver necklace has an 18 inch chain with a 2 inch chain extender and an 14.35mm diameter pendant. It is engraved on both sides.
Retail appraised value is $53
---
Purchase
Price includes taxes and mail costs.
Please be sure to include your address to where you would like the necklace to be mailed.
Once payment has been received, your purchase will be mailed within 1-2 business days through Canada Post.
Purchases can be made through PayPal (link below) or e-transfer to michelle.cordeiro@fpwr.ca
US Residents Purchase Here: